What is Casey's Law?
Casey's Law refers to the Matthew Casey Wethington Act for Substance Abuse Intervention. The law became effective in Kentucky in 2004 and was inspired by Casey Wethington's death of a heroin overdose at age 23. The law allows the parents, relatives, or friends of an addicted person to lawfully intervene and request involuntary, court-ordered addiction treatment for their addicted loved one.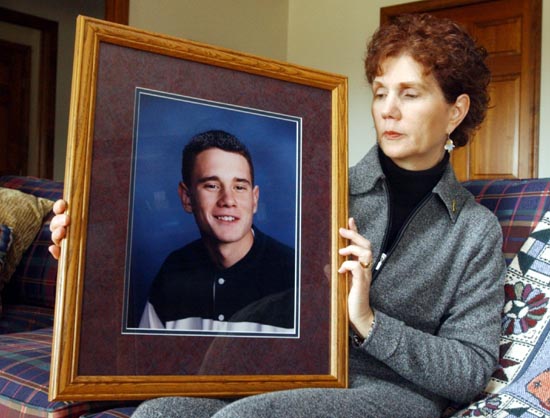 For more information on Casey's Law, download this brochure from Transitions, Inc or visit the Casey's Law website. You can contact Casey's mother, Charlotte Wethington, directly via email at This email address is being protected from spambots. You need JavaScript enabled to view it.
Click here for the STEPS involved in Casey's Law.
1. You (the petitioner) must complete this petition.
2. File the petition with your county's circuit clerk.
3. The court will review the petition, take an "under oath" statement from you, and make a decision.
4. If the court agrees that there is probable cause to proceed with the process, the addicted person will be notified and a hearing will occur within two weeks.
5. The addicted person will be assessed by two healthcare professionals, one of which must be a physician.
6. The court will decide whether or not the addicted person must complete involuntary addiction treatment (duration of treatment: between 60 days and 360 days).
7. You (the petitioner) will then be responsible for (A) locating a treatment facility and (B) paying for the addicted person's treatment if fees apply.
---
Who Is Charlotte Wethington, the founder of Casey's Law?
Sometimes Charlotte Wethington gets frustrated. She can't sit in a room and talk about what could be done about heroin. Not now, while people are dying. But Wethington pushes on. She's been fighting for fair treatment for the addicted, for treatment with dignity and understanding of the disease for nearly 14 years after all. She's not about to quit. Read more here about the "Cincinnati Woman of the Year, Charlotte Wethington" in this article written by reporter Terri Demio of the Cincinnati Enquirer.
More On Casey's Law
"Northern Kentucky's war on heroin has a new weapon, an assault vehicle that was deployed for the first time Wednesday afternoon. It's a 1967 Volkswagen bus and its commanding officer is a mom who lost a son to addiction and doesn't want to leave any others behind. They will distribute Naloxone kits to help at-risk families save loved ones from an overdose. Jim Wethington put the final touches on what has been tabbed as, "Casey's Bus." Wethington's son, Casey, bought the 1967 VW Kombi with money he got as high school graduation presents. Casey Wethington died of a heroin overdose in 2002. The bus was labelled with anti-heroin and pro-recovery messages. It will be a rolling resource when people advocating recovery host community meetings like the one happening Wednesday. The bus will be used to distribute Naloxone kits.

Dr. Jeremy Engel said it was a way to provide a needed service that's rarely available, "Basically, Naloxone is a medication that reverses overdose. It does the same sort of thing paramedics have been using for years. Basically it's now legal in northern Kentucky to dispense it." Engel will write prescriptions for the kits to people who are at risk. The goal: Save lives and get people into recovery. People Advocating Recovery's Jason Merrick said, "To come together and learn how to reverse the effects of a potentially fatal situation and overdose. And actually be a part of the solution instead of just a bystander and watching it happen." There is both irony and whimsy in an old hippie van's enlistment in the war on drugs. But it was one family's serious attempt to keep giving back after so much was taken from them. Naloxone kits are free to those who come to meetings. They were donated by Northern Kentucky Hates Heroin."
- Job Webb, Local12 News
---
Casey's Law: A Guide for Families
If someone you love is struggling with the disease of addiction, Casey's Law can help you get them the treatment they need. It is a law that allows family members and friends to petition the court to get the addict into court-ordered treatment without criminal punishment. This video features information on utilization of the law from the following individuals:

Charlotte Wethington, Founder of Casey's Law & Casey's mother
Dr. Mina "Mike" Kalfas, Addiction Specialist
Judge Douglas Grothaus, District Judge, Kenton Co. KY
Kimberly Wright, Advocate, mother of an addict
Holly Daugherty, Attorney
---
Find Casey's Law on Social Media
You can join the private Facebook group of Casey's Law by clicking here and/or you can following their public Facebook page by clicking here.
---