Ways to Donate
Donations to the Heroin Support Inc are 100% tax-deductible to the full extent of the law. You can click here to verify our nonprofit status with the IRS website. Below are the other ways you can donate to our nonprofit.
Donate via check or money order to the address below.
Heroin Support Inc
P.O. Box 236
Alexandria, KY 41001


On your cell phone you can text the word "Nonprofit" to the number 44321 to donate.





Donate via Give Lively





Donate via Alexa and Amazon Pay. You can now use your Alexa to make a donation simply by saying "Alexa, make a donation to the Heroin Support Inc" and choose the amount you'd like to donate. Explore charities that accept voice donations on Alexa


Donate via Network for Good



Donate via GreatNonProfits.org


More Ways to Help
---
Create Your Own Personal Facebook Fundraising Page Benefiting HeroinSupport.org
Click Here to Start Your Personal Facebook Fundraising Page
Start an online fundraiser to help us continue the work we do. Facebook Fundraisers are a great way to rally your family, friends, and network to join the cause. The fundraisers are easy to set up, in about three minutes you're friends will be contributing to helping our nonprofit.
Nonprofit fundraisers let people raise money for your nonprofit on Facebook. Your supporters can set up a dedicated fundraising page to share their story, tell others about your mission and rally around a fundraising goal.
Click here for more information and additional tips for running a successful fundraiser
Reach friends who care
Fundraisers give people the tools to get the word out through Facebook, Messenger, Live video and email, all in a place their friends already visit every day.
Easily collect donations
Friends can donate in a few taps without leaving Facebook, making it easier to collect donations. Donors can now choose to give a one-time or monthly recurring gift.
Find new supporters
Each time someone donates they are prompted to share and invite their friends. Shares and re-shares also contain a donate button making it easy to donate right from the News Feed.
---
Amazon Wish Lists Needs
AmazonSmile Charity Lists is a new and meaningful way for you to donate items directly to charitable organizations. With Charity Lists, all charity accounts are verified so you can take the guesswork out of giving and donate worry-free.
The streets of Northern Kentucky and Cincinnati have many people struggling with the disease of addiction that need basic necessities like food, water, hygiene and clothing such as shirts, socks, and undergarments. We strive to provide these necessities to those people while we also offer them detox & treatment options and help them make the calls and arrangements to get help.
Our wish lists also include books about addiction/recovery for those in sober living and treatment as well as items for sober living care packages. These items are listed on Amazon as needs for our nonprofit to continue helping others struggling and going through early recovery.
All Amazon gifts to our 501(c)3 nonprofit are tax deductible (Tax ID# - 47-1293444).
Click the image below to view our Amazon Wish Lists.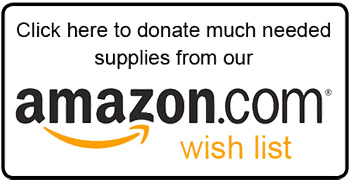 ---
In-Kind Donations
New items or used items in good condition are always welcome. However, we cannot accept some used items or health and sanitary reasons. Please contact us at 859-474-0078 or email us at This email address is being protected from spambots. You need JavaScript enabled to view it. to discuss whether your in-kind donation can be accepted and, if applicable, to make arrangements.


Volunteer
Call 859-474-0078 or email us at This email address is being protected from spambots. You need JavaScript enabled to view it. to learn more about volunteer opportunities.